Latest posts by James Gibson
(see all)
Bottom Line Up Front
Since its release, Grand Theft Auto 5 and the Grand Theft Online mode, in particular, have been a massive hit with fans. However, as we await the next entry in the series, Rockstar continues to add new content to the online side of their game. With each major and minor update, they always ensure to include some new vehicles. All in all, this results in a myriad of unique vehicles exclusive to online gamers. These GTA Online Vehicles can be found below.
Love it or hate it, we have now had GTA 5 with us for nearly a decade, with no sign of a sixth official entry into the series coming anytime soon. To give you an idea of how long GTA 5 has been with us, I have now played the title on three generations of PlayStation. Just think about how much has changed between the PS3 and PS5, and this game is still with us and still being played by its loyal fanbase today as they continue to discover new things to fill their time with.
With this being said, however, it would be silly to suggest that Rockstar has managed to attain the attention of its fans all these years simply on the strength of their base game. Everyone knows that the only reason people stay playing the title is because of the online mode that has continued to grow and expand over the years into something far larger and more successful than I think Rockstar could have even predicted. 
With the sheer amount of continued DLC being freely released by Rockstar for their online mode, it does not surprise me that this online version and the content available therein now dwarfs the base game in comparison, with far more missions, unique buildings, and assets being only available to online players than were actually included in the single-player base mode. 
Of course, one of the best things about any GTA game is the sheer amount of vehicles available to the player. The range of these vehicles and everything that one can do with them adds so much replayability that it's insane.
Rockstar knows this, of course; therefore, with every update or new mission added to GTA Online, they always ensure to also add in some new vehicles for the player.
These vehicles are often only available to players online and not in the single-player mode, increasing the player's likelihood to both continue playing the online mode and buy Shark Cards to afford the cool new vehicles that keep coming. 
With this in mind, the GTA Online exclusive vehicle list has now grown so substantial that one man alone could never remember them all. So, why don't we take a look at the most influential and important vehicles available to the player in this overview? Let's go!
Sports Cars
10F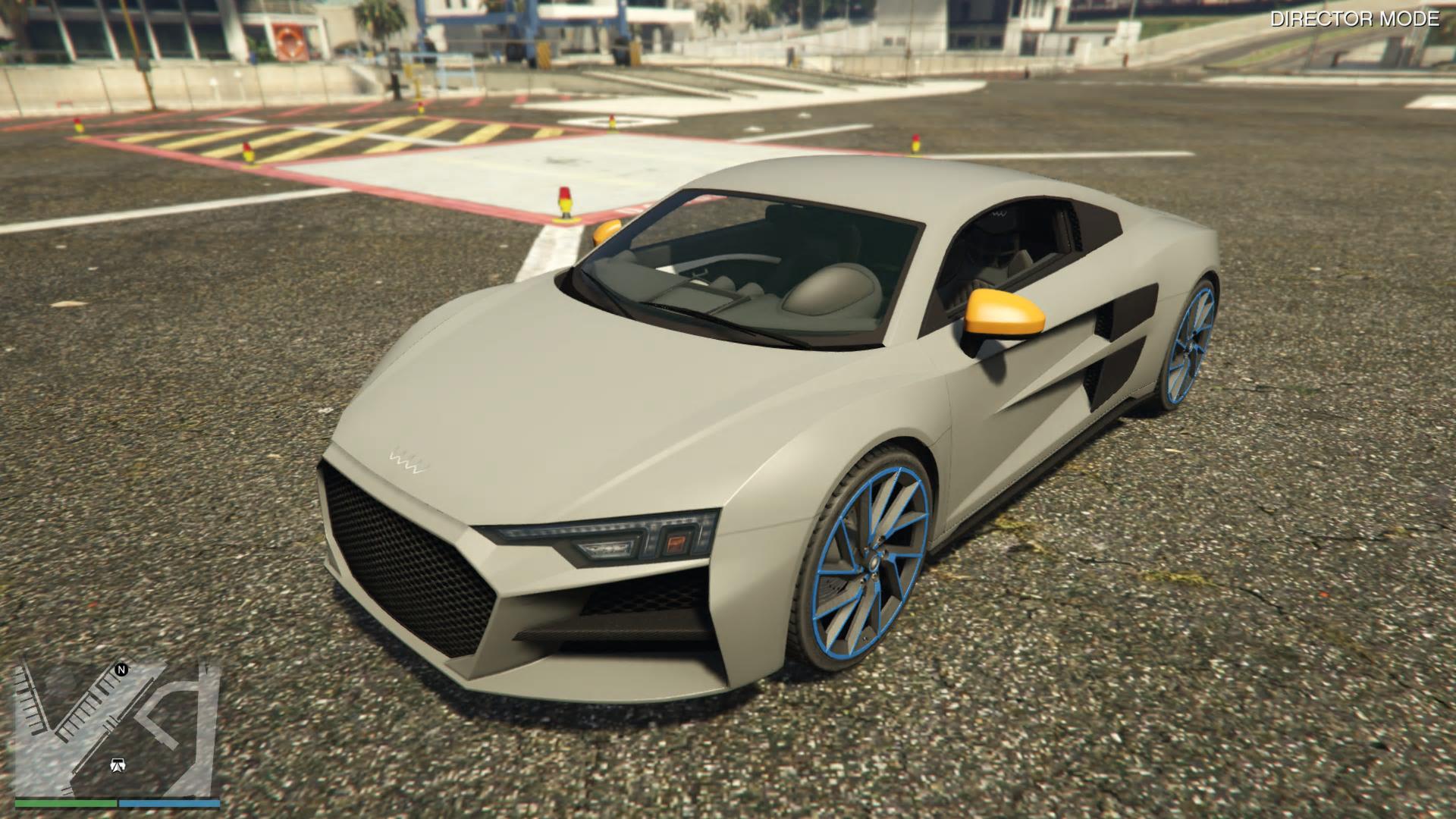 This car can be seen as the father of the Obey 9F and is based on the fourth-gen Audi R8 coupe, with little touches of the Aston Martin DBS thrown in there for added style points. 
While similar to the 9F, this car is much meaner looking, featuring updated vents and a mesh back bumper. 
Apocalypse ZR380
This custom sports car is perfect for every criminal and doomsday prepper, featuring layers of bulletproof protection. This is teamed with the sporty shape and performance of the Nissan 370Z. 
Also, you can install both jump and shunt mods into this vehicle for some added oomph.
Drift Tampa
This drift version of the base Tampa is fully modified to include a large splitter in the front and rear, as well as taped front headlight and a myriad of other visual upgrades.
All of this changes the appearance of the car into something akin to Ken Block's famous Gymkhana drift car, 
Paragon R
Designed to be the perfect blend of luxury and sport, this car was added as part of the Diamond Casino and Resort update. It is based on the current generation Bentley Continental GT.
SM722
Only made available after the Criminal Enterprise update, this car is shaped like a 09 Mercedes SLR Stirling Moss Edition and features no roof or windscreen, leaving the player completely exposed to the elements and gunfire. 
Hopefully, this rocket's incredibly high top speed and handling make up for that.
V-STR
Should you be a fan of the Cadillac CTS-V, this car is perfect for you; I mean, they didn't even change the name, really. This four-door luxury sport sedan is perfect for leaving the kids to school and speeding through a hail of gunfire. 
Muscle Cars
Apocalypse Dominator
As part of the Arena War update, this vehicle which resembles a hacked-up Ford Mustang, is essentially a Dominator with a couple of extra modifications thrown on top. 
These mods include some chassis armor in the form of an eternal, complete body roll cage and barricaded windows. The vehicle's rear is also completely covered by a shaped metal plate. 
Arbiter GT
Available to the player with the Expanded and Enhanced Edition update, this classic American muscle car is styled after the 1970 Pontiac GTO. This care, therefore, features the famous massive front hood and pinched front grill of the Pontiac. 
The car has a massive V8 engine which ensures decent straight-line speed but does nothing for the handling of this rear-wheel drive beast.
Buffalo STX
A cousin of the current-gen Dodge Charger, this upgraded version of the regular Buffalo boasts a sportier overall look and a massive improvement in top speed and acceleration.
This car is the fastest muscle car in GTA Online due to its single-cam V8 engine and an additional supercharger. 
Dominator
Once again, the GTA developers have based this car on the fifth-gen Ford Mustang; however, the front grill is from a 1970s Mustang.
This car has a very high torque rating, ensuring that you can achieve top speed fairly quickly with an excellent acceleration figure.
Nightmare Slamvan
Probably one of the most unique-looking cars in the game, this 'Slamvan' is painted in frighteningly bright colors and features an open back end and four wheels in total at the rear.
Also, you can expect to survive a couple of knocks in this vehicle thanks to window barricades and an external roll cage. 
Rat Truck
A clean variant of the Rat-Loader, this vehicle has a massive front grill, and a triangular, hot-rod style hood with a pick-up converted back end.
This truck was added to the game with the Festive Suprise update.
Supercar
811
Based on the massively powerful Porsche 918 with certain design cues taken from the Koenigsegg Regera, this car has the aerodynamic look of a fighter jet on wheels. 
A carbon fiber splitter runs around the base of the entire car, ensuring maximum downforce is achieved at top speeds. This car comes in at the third fasted car in the game, on par with the T20.
Champion
This car cost the player a massive $2.95 million and is based on the Aston Martin Victor. It is one of the fastest and easiest to control cars at high speeds in the game. 
 The Champion is front-engined, sharing said engine with the Paragon R and Diety.
Entity XXR
While this car is included in the supercar section, the Entity XXR is technically a hypercar capable of hitting speeds never thought possible when playing the base GTA 5 game. 
Although this car appears like a normal Entity XF, all the new styling pieces, including air vents and splitter, ensure this car looks a lot more aggressive. 
Itali GTB
The Itali GTB is designed to look like a Ferrari 348 GTS, one of the sleeker and more subtle Ferrari's currently in their range. This car features hooded front headlights and impressively large side vents that direct airflow through the body and over the wheels. 
XA-21
This copy of the Jaguar C-X75 will cost the vehicle $2.37 million. You can spot this car due to its very long wheelbase and rounded front body. 
The best thing to do in this car is to hit corners at massive speed and come out the other side with no extra bumps or dents. This is made possible by the XA's massive grip and wide center of gravity, making it the best cornering car in the game. 
Sports Classics
190z
Harking back to the Nissan Fairlady Z, this car is probably one of the best to modify in the game for sheer beauty. While the car does have a long body, most of this is taken up by the massive front hood and engine.
While this car is comparable to a more modern sports car in terms of speed, it is brilliant at hitting corners and throwing out the back end. 
Michelli GT
The look of this car is derived from a combination of the Alfa Romeo Giulia and the classic Lancia Fulvia Coupe. Because of this, the car's stance is square, with a high center of gravity due to the high driver's cabin height. 
Players gained access to this car via the Southern San Andreas Super Sport Series update and the Madrazo Dispatch Services Week event. 
Rapid GT Classic
Another beautiful classic car inspiration for this one. Based on the Aston Martin V8, produced during the early 70s and late 80s, this car features a long front hood and a hatchback-style rear end. 
Due to the car's low ride height and stance, this car has incredible grip and decent cornering mechanics, making high-speed drifting a dream. 
Viseris
Purchasable from Legendary Motorsport for a cool $875,000, this car is based on the Maserati Merak. Therefore, the front grill is very angular and compact, giving the front of the car a forward-leaning stance as the hood overreaches the bumper slightly.
Due to a top speed of 109mph, this car is rather slow compared to others in its class. 
Sedans
Glendale Custom
A simple low-rider variant of the normal Glendale, this car is considerably lower as standard than its base model. This car is also fitted with the same engine as the Chino Custom and the Slamvan Custom with a single-headed V8 motor. 
Interestingly, if you modify this car's trunk, you will increase your overall handling capabilities.
Warrener HKR
With the rear end of a Nissan pick-up truck and the front of a Skyline C10, this could possibly be the perfect car for anyone who needs both speed and surfboard space. 
Due to the lower weight at the car's rear end and the increase in the engine's torque, the car is prone to massive spin-outs at relatively low speeds and is, therefore, nearly incapable of taking even the easiest corner at high speeds. 
Turreted Limo
You may be able to guess what stands this car apart from its standard limo brother. Featuring a full working minigun on the roof that a player's mate can fire out of the sunroof, this limo is perfect for any VIPs looking to cause mayhem in downtown Los Santos. 
SUVs
Astron
While you can try and ignore this car's looks, it isn't quite possible for me as I truly dislike the Porsche Macan that it is based on. The front of the car is rounded and appears like a bubble, and the massive trunk door dominates the rear.
Granger 3600LX
Based on the eleventh-gen Chevrolet Suburban, this car is perfect for the upper-class member of Los Santos and those who want to plow through some pesky traffic that may or not is part of the LSPD.
Powered by a V8 engine, this heavy car has a very poor acceleration but a decent top speed. 
Jubilee
Inspired by the Rolls Royce Cullinan, the luxury car-making giant's heavily disliked first dalliance into the SUV market, this car is the very idea of class, money, and snobbery. 
For all this opulence and the massive front grill/bumper combination, the player will have to pay $1,650,000 to Legendary Motorsports.
Squaddie
Purchasable from Warstock Cash and Carry, this vehicle will cost the player $1,130,000. This armored military Humvee is painted olive green and comes without a back roof as standard.
Compacts
Apocalypse Issi
This jacked-up Mini is higher off the ground but still in a very small stance. This very cool rally-style Mini is perfect for the Arena Wars and will probably be the best all-around vehicle purchase you can make in the game, just for style points alone.
Brioso 300
A car that could only be described as cute, the Brioso 300 is inspired by the Fiat 500 from decades past, losing the finer touches of more recent editions and the thicker metal bodywork. This car is not only lightweight but is also quite quick compared to the rest in this class. 
Weevil
Based on the classic and original Volkswagon Beetle, this car will spawn on hub-capped wheels and in one primary color. 
The interior is basic and made of leather with some chrome detailing on the front and rear bumper. 
Coupes
Felon GT
Manufactured by Lampadait and based on the Maserati Gran Cabrio, with the grill of a Jaguar XF, this car is perfect for long journeys requiring great speeds with added luxury. 
This car can come in both hard and soft-top variants, allowing the player to put the hood down at will. 
Kanjo SJ
While rare in GTA 5, this JDM-inspired car is perfect for car enthusiasts who know what they are looking at. This car is designed to look like an original model Honda Civic. It will spawn in two colors: the primary dealing with the bodywork and the second on the engine bay. 
Windsor Drop
Named after the English royal family, this drop-top Rolls Royce Ghost is obviously supposed to exude opulence and wealth. Complete with a primary color on the main body and a secondary on the soft-top roof, this car has speed and cornering to back up its massive size.
Off-Road
Bifta
This beach buggy is perfect for the sands, complete with a lightweight, doorless main cabin and rear, naturally aspirated engine; this buggy is perfectly nostalgic. 
On the road, this car will spin out ad even at low speeds due to its almost perfectly square stance and lack of grip, which is surprising for a car built for the sand. 
Dune FAV
A variant of the normal Dune Buggy, this car comes on deeply ridged all-terrain tires while also completely covered in sand. Lastly, the car supports its spare wheel on the back roll cage compartment. 
Hellion
Based on the Nisson Safari Patrol wagon and the Jeep Cherokee, this car is perfect for the roads and swamps of Los Santos. The wheel arches are extended out over all four wheels, and the ride height is lifted to prevent underbody scraping when off-road. 
The player can modify this car to appear even more ready for the swamps by adding lights non-functioning lights in Los Santos Customs. 
Space Docker
A variation of the Dune Buggy, this Space Docker is unique due to the crazy rocket-style modifications. Each of these pieces appears made of simple wood and is badly made. These panels and the base body of the Space Docker are painted in a red, white, and blue livery. 
Winky
Another army-style vehicle available from Warstock Cash and Carry, this car looks like an old Land Rover Defender; however, without the roof and in the style of WW1 military jeeps, lacking all softness and useless mod-cons. 
Zhaba
Easily the most unique-looking vehicle of its class, this tank-like machine was initially only available to the player during a mission called 'Getaway Vehicles.'
Later, this cube-shaped vehicle with its curved main body was added to the game via the Diamond Casino Heist update. 
Open Wheel
BR8
A version of an F1 car, this vehicle is perfectly designed for high speed and impressive cornering. Inspired by the Red Bull car of the 2011 series, this car will only allow one inhabitant and will cost the player $3.4 million.
R88
Another F1 car to zip about Los Santos with; however, this one is a little bit different. Inspired by the Lotus 97T, possibly one of the most famous F1 cars ever produced, this car was run in the 1980s, and yet it will still destroy most vehicles in GTA whether going doing a straight or a circuit.
Vans
Minivan Custom
This variant of the normal Minivan is inspired by all those parents who don't want to let go of their youth even though they are being forced kicking and screaming into the Minivan lifestyle. Designed to look like a child-carrying low-rider, this minivan is truly kitted out as a sports vehicle, complete with a garish paint job and an all-around body kit. 
Paradise
A Paradise van takes an ordinary Rumpo van and turns it into the perfect beach van, complete with waves painted on both sides. 
This van also has an improved top speed and acceleration thanks to the new V8 engine under the hood.
Speedo Custom
While this van may appear very similar to the basic Speedo, you would be wrong to assume the Custom is not worth the upgraded price. Instead of the regular chrome details you got on the regular van, this one replaced them with armor plating and the space for twin miniguns, should you desire. 
Youga Classic
Rockstar took design tips from the Ford Econoline cargo van for this one. As you might imagine, this van has made changes to the ordinary Youga by taking away some of the more modern elements and harder styling points, replacing them with a more stylish and dated look.
These upgrades include a slight flaring of the rear wheel arches and some classy sliding side doors that are fully operational. 
Utility and Industrial
Utility Truck
These trucks are essentially Brute's but have a different rear attachment. These attachments are usually of some help to the player in some way or another; whether this is a crane or cargo transported, the player can use these vans to achieve their own ends. 
As a heavy unit, this van boasts a massive 8-liter engine which helps it achieve decent top speeds. 
Slamtruck
Introduced into the game as part of the Cayo Perico Heist update, this truck shares many features with the Slamvan and any other mid-80s American muscle truck with the signature rounded hood and elongated grill. 
The back of this vehicle is one great slope for loading cars; however, most people use the vehicle as a makeshift ramp for their friends to get some sick air. 
Guardian
Believed to be based on the current Ford F650, this pick-up truck is sat on a massive set of tires and still clears them thanks to its lift kit. To survive in all environments, this truck also has side pipes and top-mounted exhausts to ensure water doesn't get into the engine when wading through deep water.
This truck is made by Vapid and has a relatively high speed for the sheer size and weight of the vehicle.
Service
Brickade
Appearing previously in TBoGT, this truck re-enters the GTA universe but with major changes. Instead of the classic bubbled and armored look, the new Brickade appears much more like a normal haulage truck. 
Essentially, this truck will survive pretty much anything thrown at it, moving everything and anything that blocks its path in the meantime.
Festival Bus
Imagine someone got their hands on an ex-prison transport bus and decided to modify it with hundreds of speakers and paint it completely black. Well, if you can imagine that, you can picture the Festival Bus. This vehicle is unique, complete with neon lights and a stage on the roof.
Wastelander
Purchasable from Warstock Cash and Carry, this custom cab-over-engine desert crosser is like something out of Mad Max. This vehicle is perfect for transporting cargo across the desert, featuring a stripped-out driver's cabin and a long flatbed in the back. 
Commercial and Emergency
Apocalypse Cerberus
Another truck that came as part of the Arena War update, this item seems to copy the Mad Max War Rig design by placing an armored water tank on the back of a semi-truck and decorating the rear end with metal defenses.
Terrorbyte
This massive, blacked-out truck comes with full armor plating and all the tech one would ever need to hack everything and everyone in the surrounding area. 
Due to all of this extra armor plating and tech, this truck will set you back up to $3.59 million. 
RCV
The Riot Control Vehicle or RCV was added into the game during the Doomsday Heist update and is one of the hardiest vehicles in the game. This truck can withstand almost anything and has full armor plating and barricaded windows. 
Military
Apocalypse Scarab
ifrThis Arena War era tank is perfect for surviving literally anything Los Santos can throw at you while looking cool in the process. This vehicle is also the perfect off-roader; the wide base and tank tranks make climbing up the steepest terrain a breeze. 
This machine will cost the player $3 million, but what can you expect? Tanks aren't cheap, especially ones you can modify or attach a winch to. 
Barrage
People say that this vehicle is based on the HDT Storm Search and Rescue Tactical Vehicle. This vehicle is small and lightweight but also sturdy, designed to take a lot of damage while the player transfers into the mounted minigun on top of it. 
APC
This armored personnel carrier is designed to withstand any missile or bomb that comes toward it. Featuring a mounted canon and a top access hatch, this vehicle is every army movie car of choice. 
Thruster
Finally, the Jet-Pack is back in the game. This personal flight device is classed as military property, probably because the public would kill themselves immediately when they got one of these. 
If you played GTA San Andreas, this Jetpack is relatively the same as that one, except a bit bigger and completely blacked out.
Boats
Avisa
This boat finally allows the player and up to three friends a view of the Los Santos depths. This submarine is designed like the Submersible from the main campaign, but the body is completely made of glass for panoramic viewing. 
Should you buy the sonar modification for this vehicle, the player will be able to find the daily Hidden cache.
Kraken
Another fully submersible vessel, the Kraken, comes in bright yellow and is based on the Triton line of submarines. The vehicle is made in a boxy manner, with one passenger hull and two arms.
Toro
Designed to look like a normal Jetmax with the wood finishing of a classic yacht, this boat is perfect for the rich sea-fairing gentlemen looking to get away from it all.
Although based on the Lamborghini yacht, this boat is relatively slow to accelerate and average in speed. 
Tug
Added into the game as part of the Further Adventures in Finance and Felony update, this tugboat is pretty much the same as it was back in GTA 4. However, the floor plan is slightly changed, and the hull now features some blue and red livery.
Planes
Alpha-Z1
Similar to the Mallard, this plane only has room for one passenger due to its small cockpit and general profile. Players must slide back the cockpit top canopy to enter and clip themselves in. 
The plane's wings are mounted underneath the cockpit, complete with horizontal reference stages on the wing tips.
B-11 Strikeforce
Purchasable from Warstock cash and carry, this attack jet is perfect for any player wishing to dominate the skies. Complete with autocannons and bombs should the player modify it enough.
This jet has the same handling as most fighter planes in the game but has a lower top speed than the Hydra, which it so closely resembles.
Volatol
The Warstock Cache and Carry website defines this one-of-a-kind aircraft as a "delta-wing strategic bomber." Added to the Doomsday Heist update, this huge plane features a large cargo bay and a pointed nose. 
Due to this plane's impressive size and lack of maneuverability, this aircraft can be easily shot out of the sky due to a lack of armor plating. However, the player can deploy countermeasures such as chaff and flare to knock oncoming missiles out of the sky.
Tula
This plane can take the player anywhere. The four rotary engines and waterproof fuselage ensures that the player can fly and land on any flat surface in the Los Santos area, including the water. 
GTA Online players got their hands on this vehicle as part of the Smuggler's Run update, and it can be purchased from Warstock Cache and Carry for a small fee of $5.17 million.
Helicopters
Akula
Designed and built by the Buckingham company, this helicopter is based on the Boeing RAH-66 Comanche. This vehicle is militaristic in its design, complete with folding stub wings on the lower sides of the main body.
This helicopter can be fitted with a machine gun, dual minigun setup, and missiles. 
Sea Sparrow
This Sea Sparrow is based on the lightweight Buzzard attack helicopter; however, this version sees the vehicle's wheels replaced with flotation devices to allow for landing on both land and sea.
It was added into the game as part of the Southern San Andreas Super Sport Series update during the Vespucci Job Week event.
SuperVolito
Much like the standard helicopters in the base game of GTA 5, the SuperVolito is shaped with the typical rectangular hull with bubbled front end and twin blade rotary motor. 
What sets this helicopter apart is this aircraft's luxury interior and price, costing the player a staggering $2.1 million from Elias Travel.
Frequently Asked Questions
Question: How many vehicles are in GTA Online?
Answer: The GTA Online vehicle library is massive due to the combination of the base game and the additional content added to the game over the years. Counting every controllable vehicle, the player has access to 717 unique vehicles.
Question: How much does GTA Online cost?
Answer: There is no cost for playing GTA online after you have bought the base game itself. However, you will have to play countless hours or buy Shark Cards to buy every part of the game's additional content.
Question: How long is a day in GTA Online?
Answer: Each hour in the game is two minutes of IRL time; therefore, it will take 48 minutes for the game to go through an entire day.
Final Thoughts
So, there you have it, a complete and comprehensive guide to the vehicles exclusively available to GTA Online players. While content keeps being released for the online section of this game and people keep investing IRL money into their characters, you can be sure Rockstar won't be in any hurry to release another game. 
However, this long wait has given the developers and us a lot of time to play and reinvigorate the game with countless new and interesting vehicles to tour Los Santos. With that being said, I truly hope you enjoyed this article and that I will see you again soon.